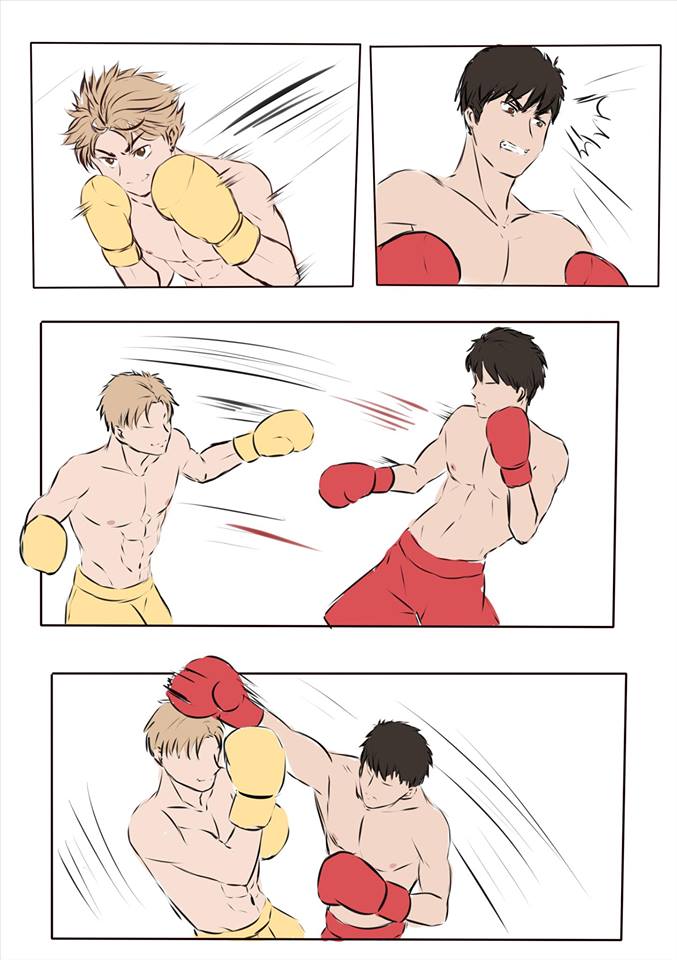 One of the earliest memories Jack could remember was sitting on his father's knee. In a voice that seemed gifted by the Gods themselves, both strong and powerful, he would tell stories from the ring. Soft gentle words would take sudden turns and sting as hard as any hook. Jack hung on each and every one, eager and begging for the next. It would be the closest they would ever be for things rapidly changed. Now, when ever he readied himself for a match, such feelings always came rushing back. The feel of the gloves on his hands, the air across his bare chest, the rush of the battle about to happen. Again his father's words came to him. There was a lot that can happen when you step into the ring. You could rise or fall, succeed or fail, live or die. Jack didn't know what was about to happen, but there was no question, the trill of the fight was with him. Younger but obviously packing on more muscle, Henry would be no push over, maybe even doing some serious and lasting damage. But Jack didn't care. Not only would the money be good from this fight, enough to remove a lot of stress, but… well he was about to fight. It was in his blood, win or lose, this is his home.

When they touched gloves the feeling was like sex, or at least he though it was… as he never impressed a lady to get that far. The ringing of the bell the obvious climax. What ever would happen, Jack would be ready, and he would give it his all.

Henry knew the face of his assistance, but didn't know her name. Names were unimportant, as his father said, tools need not names. She took her time and care when wrapping hands, making sure they were done right and… he was properly stimulated. Her hand would accidently brush up against his bicep and chest, she would make special sure his trunks were on right and his abs felt sensual touch. All was done, assuring maximum testosterone for the fight. It, she, knew how to do her job, and she did it well. "Yeah" he though to himself, "I'll bang her later." While his father was all about using people as tools, he also spoke of the wisdom of giving them little gifts every now and then, kept them in line. And his dick? The perfect gift for anyone woman. On to other things, Henry took one look at his opponent and smiled. There was no question the boy, no man, was small for his age, but the fire in his eyes was undeniable. In comparison to many of his other opponents, Jack wasn't the most visually thrilling or defined, nor would he most likely stand out… but he did have some, features. A smooth chest that begged to have his hands on, and nipples that demanded his lips. His core was equally smooth, with just the smallest hints of a six pack coming in. He could play with them for hours as his body raged with pleasure. His assistant smiled, noticing what was going on in his trunks. She obviously though it was her, and for the interest of most parties, it was beneficial to have all think that way. After he was done with this tool, with her, he would offer this man more money than then could do with, and all he had to do was spend some time with him. Jack wouldn't deny him, no one ever did. Henry smiled again, a fight and some rough play? Perfect night.

His father had selected well.

As the touched gloves, the look on Jack's face made it even better. He wanted nothing more than to bash Henry's face in. Henry wanted nothing more than to let him try.

Mr. Featherstone watched with both pride and satisfaction, as his son prepared. His son's body glistened as a God, each perfectly crafted muscle on display to be admired. Such reminded the lord of himself back in the day, as it should of course. Just as he commanded attention with looks in his youth, so would his son. All is as it should be. He also watched as his son's well gifted female assistant assured his son was ready. While the grand lord would discourage choosing a favorite, such could lead to liability later, having a preferred want and/or look was certainly acceptable. Only the best for the best right? Such was the way the Lord of Featherstone manor made the selection for his son's carrier after all. What ever happened to his, what did the underlings call it, mother? He cared not, his line was assured, that was all that mattered. As he favored another cigar, handcrafted of course, he noted the fire in his son's eyes. It spoke of hunger, desire and the will to demand satisfaction. It was directed at both the female tool and at his opponent. "Good" he though, "very good." He would see her as a prize to be won after destroying this peasant. A good day indeed.

The bell rang, and all at once, only two people in a square ring matter.

Mr. Featherstone rested himself ring side, fancying himself both spectator and announcer. Beside him, a number of tools stood ready and eager for his command. With but the raising of his hand one rushed to his side with a drink proper to his status and occasion. Such a drink, could easily afford the servant proper housing, a thought that gave him great pleasure. With another gesture, an ash try appeared. Well trained and properly handled, it was good to be the king. With such little things taken care of, the lord could focus on far more amusing thing. Ever since his son took up this diversion, the lord did rather enjoy commenting on his sons actions and the inability for anyone to beat him. Speaking of which, he gave the slightest of nods to his most trusted tool, it bowed and departed.

Little things indeed.

The lord, caressed and comforted by rich leather, watched with amusement as his son dance around the ring, exploring defense and planning his attack. The product of excellent breeding assure he could do this quickly. The tool Jack looked nervous but determined, no doubt hopping to land a hit and then calling victory. It was almost insulting that one did not know his place, and one of no physical impressiveness dared hope to do. Land a hit and harm his son? Laughable. Such short sightedness and lack of knowledge was typical of their stock. It was also something the tool would pay dearly for.

A hook, a strong left, came from his son and just breezed by Jack's face. Mr. Featherstone chuckled to himself. His son was playing with his tool, inspiring confidence before destroying it utterly. The Lord was pleased, this was how a man was suppose to act, and knew he would fully enjoy this match. As quickly as he had such a thought, a counter attack, as right hook came from the tool. As expected the attack failed. Hate and desperation mixed on his it's face, obvious realization taking hold.

Enjoy it indeed.

The match had just started and Jack's heart was already racing. The look, the need, the demand and desire for blood had been clear on his opponents face. Excepting a rich kid, with an attitude of incompetence and spoiled, what he got was this need tempered by wisdom and intelligence, a deadly combo in its own right. As Henry danced around him, he focused more on keeping eye contact than direct conflict. He couldn't afford to be caught off guard. Not this early and not this time. What was that about hopes and dreams? With out warning, the boy pressed his attack and came at him, ducking down low for a mean body shot or hook/uppercut. With only a split second to decide, he bounced back, shielding his head, just barely, from a rocking blow. Having dodged a powerful attack, he answered with one of his own, but that to failed. His gloves already up and protecting his face, Henry easily deflected the blow. Again Jack dodged back, throwing a couple of jabs mostly done to keep him back. It worked, for now.

He needed to stay calm, focused and not get ahead of himself…

The two circled around, once again judging and sizing each other up. This time, Jack took the initiative and attacked with two quick jabs aimed for the nose. As expected Henry's guard again proved to strong, but that wasn't the point. With his guard up, Jack quickly dropped down low and hooked the stomach, producing a (to Jack, a very satisfying) grunt of pain. Henry jumped back, surprised at the force but clearly taking some pleasure out of it himself… did he just awaken the monster? Pounding his gloves he smirked with a cockiness he never really knew.

Henry jumped back, on instinct, from the force of the hit. Despite himself, surprise clearly showed on his face. This tool, this person had managed to outsmart him, to land a clean hit. His abs, impressive and well perfected at the gym, easily absorbed the hit. But still… His father may not be pleased with this failure and honestly he didn't know if it angered or excited him yet. This lowly nothing no name dare strike at him? But he fought back, he wasn't just a hired punching bag his father picked out. Jack presented a challenge. The was not just a tool, it was a means for him to become grand, by blood and sweet. Yes, this was what it meant to fight! Life wasn't a punching bag for him, he would have to fight and learn to take a hit. Yes, this was glorious indeed. The young man pounded his gloves and gave him a cocky look. He wanted a fight, a real fight. At that moment Henry decided it excited him. It empowered him more than any drug or hot piece of ass.

Breaking down this person and defeating him would be the best thing today, or at least one of them.

The lord watched in horror as the tool struck his son, his legacy, this nothing! It dared strike his sons perfect abdomen. Yet this expression, this burning hate that would have normally ended with execution, quickly turned to pride and amusement. The grand lord beheld his son's reaction. He saw the fire, a drive, a hunger to destroy like never before. He wanted to destroy world and have all bow before him! Bow to the Featherstone name! YES, YES THIS WAS IT! His son had found a new way, an improved way, a grand way to fuel his strength and to play with his food before the end. He could not be more proud.

Dip, dodge, attack, fuck get out of there, no attack again. Move!

The round, as the servants would later gossip about, took the form of the unbelievable. Locked in combat, none willing to give but hungry to take, neither backed down. Jabs, the quick punch of choice, would come in abundance as Jack fought for more than just personal pride. Henry would favor hooks and uppercuts, blasting Jack's guard with constant assault. Jack would do his best, having each his, each attack for himself and his father. Yet even empowered as they were, each was blocked or defected. Jack just couldn't break Henry's guard, at least not yet.

Jab, jab, jab, hook, jab, dodge, shit a uppercut!

Fear rushed briefly across Jack's face as a uppercut just missed his chin, the effects of which could have easily knocked him off his feet. Jack responded with a fake right hook, that Henry guarded, leaving him open for the left to the side of his face. It connected with Henry's quick guard however, but still hit with enough force to fling sweat from Henry's hair. Henry, clearly rising in both excitement and pleasure, responded with his own combos. Quick on his feet, something he knew he could not maintain, Jack would rapidly move his head multiple times to avoids the hooks. This would at least leave his gloves to guard the body well. Yet even with the guard, even with the gloves absorbing the punches, the blows stung, had one of them hit unchallenged…

Their blows and battle of wills came to a rather sudden end, as the bell for the end of the round rang. Both stopped for a moment, and blinked. So into the fight, neither noticed or paid attention to the time. Henry was the first to break the silence with a laugh. "No bad, Jack." Then he flashed a smile of both playfulness and seriousness. "don't expect the next round to go so easy."

So easy? Jack thought…. If that was easy, what the hell was hard?